Fixing your fees
We believe that it is important that our clients should have the certainty of clear and fixed conveyancing fees.
Our practical experience over the last 20 years has shown that we can reasonably predict what work is involved in the vast majority of conveyancing cases meaning that we can offer a fixed fee service.
---
What is included in our fixed fee?
Our quotes include a complete breakdown of the cost of your conveyancing, including all our fees and the various fees that may need to be paid to third parties (which are called disbursements).
For your fixed fee quote please enter your details on our online calculator or call one of our offices
At the outset of your instructions, we will provide you with a client care letter that clearly sets out what work falls within the scope of your instructions.
As we appreciate you are not conveyancing specialists, we prefer to give you the peace of mind that we will deal with everything related to the legal aspects of your property transaction, unless we say it is excluded from the scope of our work.
Pricing – our philosophy
In a minority of cases we have found that there can be circumstances that arise that we couldn't have foreseen or be able to quote for at the start of your matter. These circumstances may require us to carry out more work than is usually required in the majority of conveyancing work. If this is the case we will let you know as soon as possible and update you on the additional costs.*
*Unless we agree a fixed fee with you for the additional work then we will charge you on a time spent basis. The hourly rate applied will depend on the seniority and expertise of the person dealing with your matter. The standard hourly rates of our Residential Conveyancing team currently range from £150 per hour plus VAT @20% for an experienced conveyancer through to £275 per hour plus VAT @20% for an Associate. We do occasionally charge a higher hourly rate for Partners dealing with particularly complex or high vale matters. If we are charging you for the additional work on a time spent basis then we shall confirm this to you as soon as the need for additional work becomes apparent and we shall provide you with an estimate of the additional costs.
Our fee earners standard hourly rate ranges from:
£150 – £175 plus VAT for an experienced Conveyancer
£200 – £250 plus VAT for an Associate
£250 plus VAT for a Partner
Advice that is excluded from our conveyancing fixed fee include the following non-standard work:
Any advice or preparation for a Declaration of Trust or Cohabitation Agreement
Any tax planning advice that may be linked to your property transaction
Any dispute resolution work arising out of your property transaction We can offer these services to you but there will be an additional fee for them.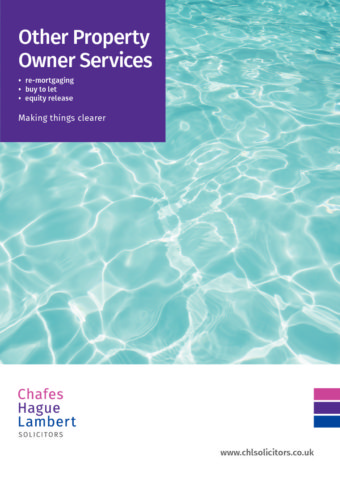 Other Property Owner Services