Something to consider
Whilst most property sale and purchases reach a successful conclusion, sometimes things do go wrong.
Whether you are buying, selling or both we can offer you the opportunity to take our Abortive Costs Promise to help towards protecting you if things do fall through.
---
Covering your costs
If your transaction falls through, you will see in our Terms of Business that you will need to pay the legal costs incurred up to the date that the matter fell through. Currently we charge for all the time spent on the file at an hourly rate over £100 plus VAT.
Many clients wish to protect themselves against these abortive costs and so we are offering an Abortive Costs Promise. By paying an additional, non-refundable premium of £125 plus VAT for a single transaction (e.g sale or purchase) or £175 plus VAT for joint transactions (e.g linked sale & purchase) this sum will cover the legal costs of your abortive transaction (up to a maximum of £1025 per individual transaction).
What it covers
Your buyer or seller has a change of mind and withdraws
Your buyer or seller loses their related sale or purchase and has to withdraw
Your buyer or seller withdraws for any other reason apart from unreasonable delay or unreasonable conduct on your part.
What you need to do
You have the opportunity to take advantage of this Costs Promise if you pay the premium to us within 10 days of the date of the client care letter we send you with your initial documentation.
Important points
The Costs Promise is only available on sales & purchases and not other conveyancing matters
The Costs Promise does not apply should you decide not to proceed with your transaction
Disbursements are not covered – this is where we have paid money out to third parties
If you have a linked sale and purchase at the same time you would need to purchase the joint transaction Costs Promise
The Costs Promise only applies to the transaction you take it out on
The Costs Promise our quoted legal charges only and not any additional work that may have been needed on your transaction and for which you will have been quoted separately
The Costs Promise premium is non-refundable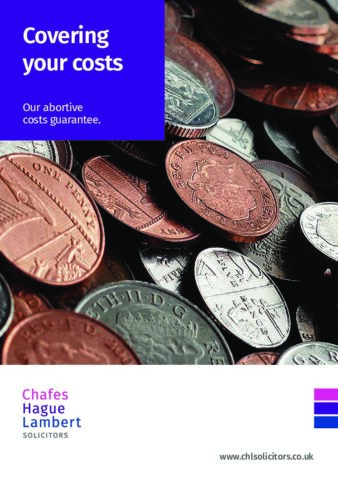 Abortive Costs Promise A5 Leaflet