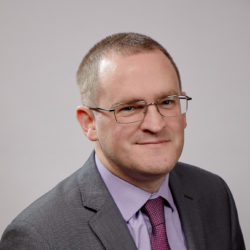 Craig O'Hara
Partner and Head of Dispute Resolution
Professional Memberships

Specialist areas:
Business disputes
Property disputes
Disputes about wills and estates
About me:
I am a Partner and Head of Dispute Resolution
I have specialised in commercial and civil litigation since 1997 and qualified as a solicitor in 2000. I have substantial experience of dealing with a wide range of both business and personal disputes, with particular expertise in disputes about partnerships, property, contracts and wills and estates.
I believe that the key to a successful claim is to pay attention to even the smallest of details and to fight each case as if it is your own. I apply these principles to every case I deal with.
Click here to contact our Wilmslow office
When I'm not at work.
My perfect weekend would involve taking my daughters to Stockport County to watch a resounding win (a rare event), a long river walk with the family and Jasper (our daft Cockapoo) and Sunday lunch in a good pub.
My top tip:
Most cases turn on the facts. As soon as it becomes clear there will be a dispute, locate and secure all relevant documents and take draft statements from key witnesses.